We decided to do our pre-wedding photo shoot in March for various reasons. One of the worries we had when we were doing the gown fitting was if my MTM AD gown would be in time for the photo shoot. Thankfully, it is!
Having already done 3 casual photo shoots in our earlier days of courtship (photos below!), we opted not to do any casual wear photo shoot this time round. So this time round, here are the few things that we're having in terms of attire for the photo shoot.
1) AD wedding gown (indoors)
2) AD evening gown (indoors)
3) 2nd hand wedding gown (outdoors)
4) 2nd hand evening gown (outdoors)
5) 2 suit
Here are some of the shots we've taken during previous photo shoots!
Botanic Gardens
Botanic Gardens
Marina Barage
Marina Barage
Fullerton area
Fullerton area
Anyway, back to our photo shoot planning, we opted to take their transport as we do not drive and did not want to trouble our friends. The rental for a day is $100 excluding car park charges, ERP and entry fees. I was told initially by Mei Qing (our coordinator) that I could bring a friend along for our photo shoot. However, when we met her last Friday to discuss our selection of photographer (we were assigned to Caesar anyway instead of being given choices), she told me that I can't bring a friend along cos' she wouldn't fit into the car. This is kinda shitty since we'd have no one to help us.
She then mentioned that there may be a xiao mei who may tag along. However, she won't be helping us with the carrying of stuff (props & bags) etc. She's only there to adjust my hair and fluff my dress if need be. Now, how would I go to the toilet with the big gowns etc? How are we to manage the props we're bringing along? Any other brides have the same issue? I don't see how I should pay more money to have my MOH cab etc cos we are paying for transport. Least they could do is to let one friend tag along isn't it? This is especially so since they didn't exactly mention who would be in the car with us.
As for the flowers, I will be 'assigned' a bouquet one rather than be given the choice to choose. On top of that, she will be giving me a combination of fresh and fake flowers. I am definitely not a fan of fresh flowers and she told me that if I like, I could bring a stalk of my own flower. Anyone else had bouquets assigned to them? Did you have fake flowers too?
Anyway, upsetting things aside, I got us some props from Taobao.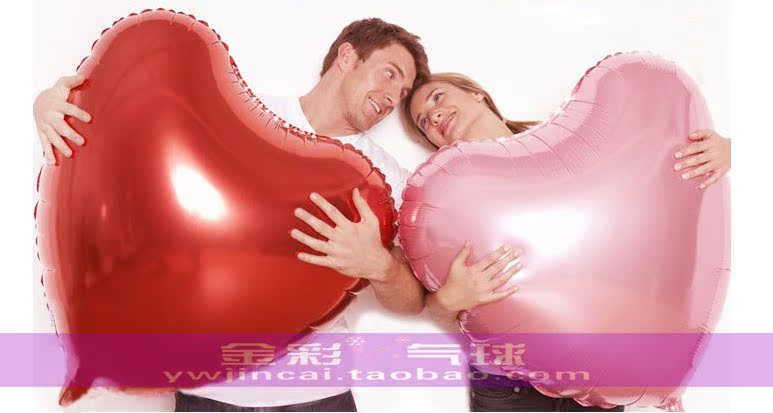 I've got us 2 of these gigantic 75cm red heart shaped balloons.
I also got us these 2 large 90cm balloons in our initials.
We'll also be getting red helium balloons for the photo shoot.
Since Seletar Broadway has only bridal bouquets made of fresh and fake flowers, I decided to take matters into my own hands. I got some roses and tropical leaves to try my hand at arranging a bouquet. I used blue satin ribbon to wrap the stems and topped it off with a blue sash.
The flowers seemed to few (only 7) even though the red roses bloomed so beautifully.
I'll be trying my hand at another one the night before the photoshoot.
I'm borrowing Weelettes' chalk board easel for the photoshoot.
I'm also thinking of getting a rainbow umbrella to make things a lil' more fun!
We're getting my trial make-up done this Friday afternoon as well as my Bridal Fitting done. I'm just crossing my fingers that things will turn out right.